At the March 2013 OSLC Steering Committee meeting, a proposal to establish User Groups for non-IP-generating work was accepted. Part of the proposal was for the concept to evolve over time as based on the experiences of User Groups. This document is meant to represent the current state-of-the-art for OSLC User Groups and to provide some historical context when needed.
Contents
---
OSLC User Group in Context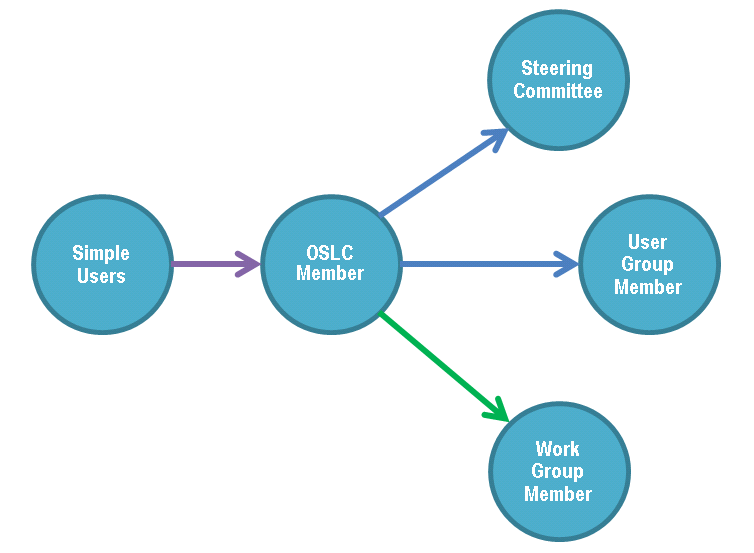 | | |
| --- | --- |
| Purple arrow: | requires execution of OSLC membership agreement |
| Green arrow: | requires execution of WPA (later TC agreement) |
| Blue arrow: | no additional agreement required |
OSLC User Group Principles
Overview of Interactions
One User Group may supply scenarios to multiple Workgroups. Workgroups can work with multiple User Groups.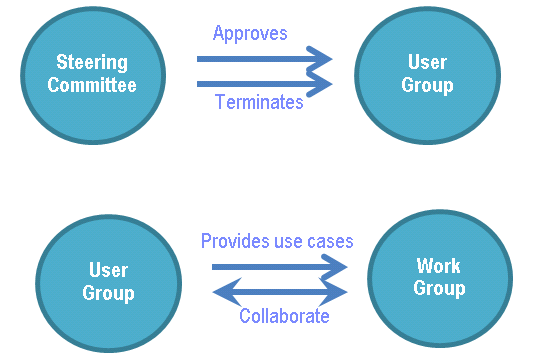 Proposal for a new User Group
OSLC Members can make a proposal for new OSLC User Group by sending a short abstract (and charter) to StC

(could be based on a template or a web page to be filled out)
see details

OSLC user groups should be cross cutting (not 1:1 with WG)
(e.g. by Industry, Embedded Systems, IT-apps, …)
StC accepts or denies the proposal
Installation and participation in OSLC User Groups
OSLC membership required for participation, but no WPA (no IP contribution or commitment)
OSLC User Group elects a User Group leader/chair
OSLC User Group will manage itself
User Group defines a charter (based on template) with

statement about no IP contribution
Goals of the User Group
Hosting of OSLC User Groups
User Groups to be hosted on http://open-services.net
new menu bar entry "User Groups" next to "Workgroups" (pending)
landing page with overview of existing user groups and short description how to get involved in user groups/apply for new and how to propose a new User Group
Setup and write access similar to non-IP WG such as StC and Communications (Communications may transition to a User Group
No mailing list, likely have a special Forum section instead
Goals and Deliverables for OSLC User Groups
User Group specific scenarios (e.g. cross WG) with the goal to provide input for the corresponding WG scenarios
Working groups will consider User Group scenarios or parts which apply to workgroup scope to define Workgroup specific scenarios of next spec version
User Groups and Workgroups should have joined sessions to define the scenario hand-over where User Group member without WPA can participate without violating IP policies. Final decision about accepting scenarios stays with the Workgroup. Workgroups can still define their own scenarios.
User Group specific events (e.g. Industry, public funded projects, …) supported by Communication WG
Contact point for industry groups or other organizations
User Groups should host web sessions on a regular basis

Web session should be documented on the wiki (planned schedule, minutes with participants, open issues, …)

…
Decommissioning of User Groups
Activities of user groups will be monitored (e.g. via documentation of web sessions)
After a period of inactivity (no web session for more than x months) or on request by the user group, a decommission process (tbd) will be initiated.
Template for new User Group Proposals
Proposed Charter (required)
name of User Group
purpose and scope of User Group (e.g. embedded systems: model based analysis and test; tool integration framework for HW/SW co-design)
founding members (minimum 3 organizations)
initial leader
liaison relationships (if any, e.g. EU projects)
clear statement that the User Group will not generate any patentable materials
Supporting Information (optional)
examples of potential user stories/use cases/scenarios
OSLC specifications that may be related
potential additional events
proposed meeting frequency
why the StC should accept the proposal
Pre-User Group assessment and observations
March 2013 Situation
There are different levels of engagement with OSLC (from OSLC governance model)

Simple user (Terms of Use only):

use specs to implement applications
contribute to forums blogs and case studies

OSLC member (easy Membership Agreements):

all of the above plus:
nominate/elect/get elected for StC
propose new WG

OSLC WG participants with WPA (bound by IP Commitments):

all of the above plus:
vote on WG matters
contribute to specs
contribute to WG Wiki
March 2013 Observations
people want to get involved with OSLC but don't know how
WPA is often a big hurdle
not many new members on WGs
Many things discussed in WG are not IP critical
No formal cross WG exchange (expect Core activities)
There is an engagement gap between member and WG participants
March 2013 Recommendation
Define OSLC User Groups as a new engagement level.
---