Innovate 2012 was a great capstone event for OSLC, and everything OSLC-related, and a chance to celebrate all the hard work completed in the first half of 2012.
The first public visibility of OSLC came on Monday morning in IBM Rational General Manager Kristof Kloeckner's keynote, where he highlighted the new OSLC Steering Committee, and the W3C Linked Data Platform Working Group.

Not to be outdone, later in the same session Harish Grama, VP, Rational Product Development, Delivery, and Customer Support, reminded everyone that OSLC is the foundational technology on which the Jazz platform is built and Open Lifecycle Integration is made possible. Harish also called out the fact the the W3C LDP WG is using part of the OSLC Core specification as the seed for its effort, and that our co-submitters included DERI, EMC, Oracle, Red Hat, SemanticWeb.com, and Tasktop.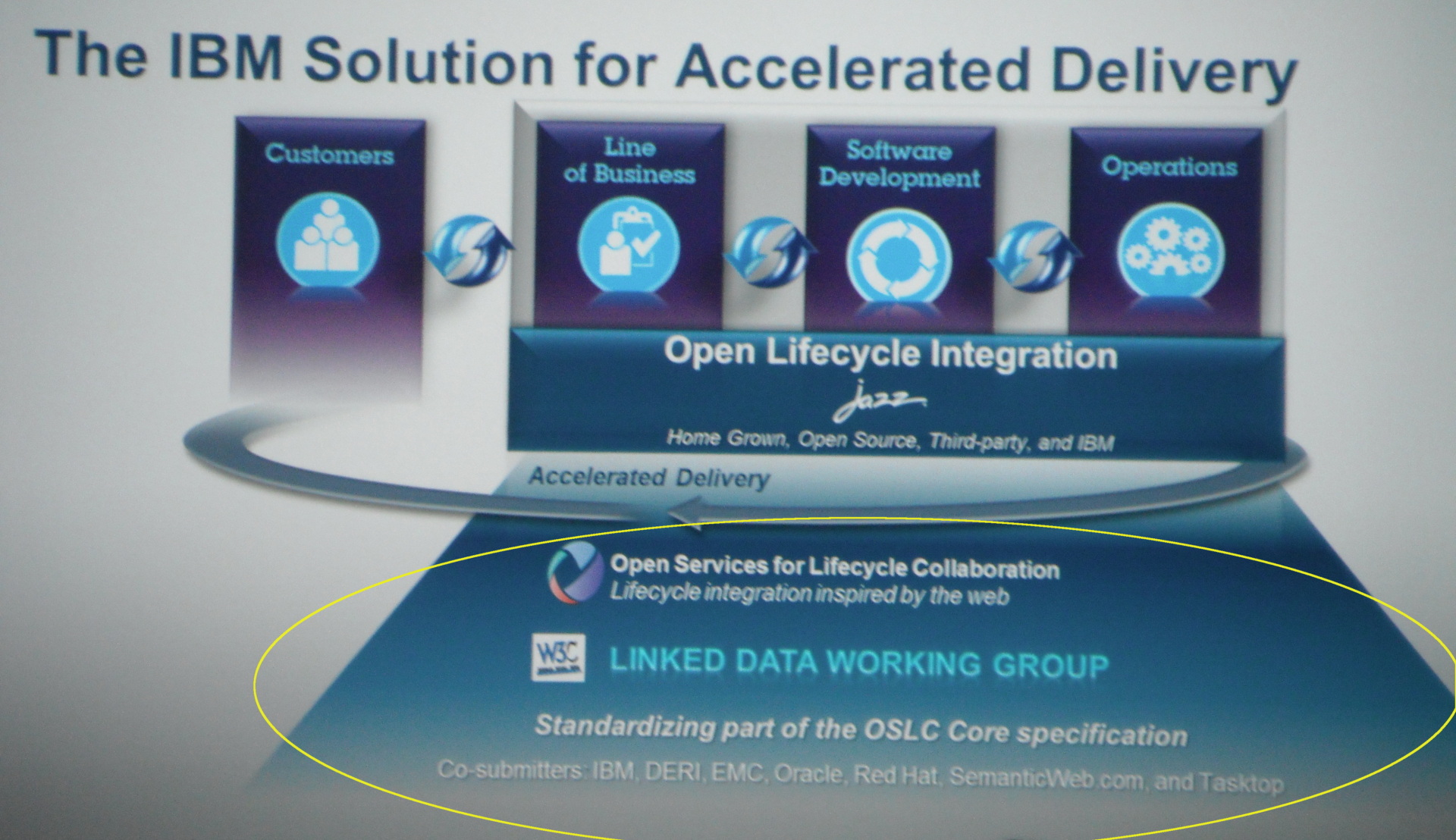 Of course, by the Monday morning keynote, the OSLC Steering Committee had already had its first meeting, and W3C had already commissioned the Linked Data Platform Working Group.
On Sunday, June 3, in Lake Buena Vista, FL, near the IBM Innovate conference, the OSLC Steering Committee (StC) met face-to-face for the first time. John Wiegand, DE and Chief Architect for IBM Rational chaired the meeting, and there was lively discussion, insightful observations, and thoughtful examination of a range of topics important to the OSLC Community. Before participating in the StC meeting, everyone executed the new OSLC Members Agreement. A lot of effort went into the creation and finalization of the Members Agreement, and associated OSLC Bylaws, on the part of the OSLC Community team, and the StC members themselves. Though the heroic, and ever cheerful, efforts of Lee Reamsnyder, the OSLC Web Developer, it was possible to sign the Members Agreement electronically, and for the StC to have an integrated wiki to host their meeting agenda and minutes.
In addition to John W.'s representation of IBM, the OSLC StC "founding members" are:
Bola Rotibi, Research Director at Creative Intellect
Andreas Keis, Manager, Software Engineering at EADS Innovation Works UK
Rainer Ersch, Senior Research Scientist at Siemens
Mik Kersten, CEO of Tasktop
From left-to-right: Andreas Keis, Bola Rotibi, Kartik Kanakasabesan (presenter), Rainer Ersch, Mik Kersten, and John Wiegand.
The other news that headlined in the opening keynote was the creation of the W3C Linked Data Platform Working Group. The call for participation in the LDP WG went out on May 9, and it was officially approved on June 1. The LDP WG is basing its efforts on the Linked Data Basic Profile member submission created by Martin Nally (IBM Rational CTO, IBM Fellow, and VP), Steve Speicher (OSLC Core WG Lead and IBM Rational STSM for OSLC and Linked Data), John Arwe (OSLC in Tivoli Lead; Lead Architect, IT Management Standards), and Arnaud Le Hors (Software Standards Architect for IBM Software Group) from the OSLC Core v2 specification. The LDP WG was approved faster than (nearly?) any other working group ever started at W3C, and already includes 31 members from 18 organizations, which shows the interest of the industry in Linked Data, and the appreciation for the direction we've been taking the technology through OSLC.
Innovate was also an opportunity for the Eclipse Lyo project to shine. Whether it was in the updated workshop tutorial that makes use of the OSLC4J library (which Mike Fiedler worked so hard on and has now been contributed back to the Lyo project), mention in many presentations, or the special "chat" hosted on Wednesday afternoon. Many people commented on how their OSLC implementations (and experience implementing them) have been improved by the test suites and OSLC4J (both currently cover the OSLC Core and CM specifications, plus parts of QM), but also how they have high hopes for Lyo delivering even more value in the future. Indeed, in the OSLC panel discussion (LS-1653), this was something identified by all three panelists (Andreas Keis, EADS; Cecilia Lindgren, Tieto; and Robert Elves, Tasktop).
Also, just before Innovate the process to contribute a Perl module for OSLC development began, and just recently we have had news from an OSLC implementer that they wish to make a contribution of a C# library.
In addition to the European interoperability efforts focussed on embedded and complex systems engineering (CESAR, SPRINT, MBAT, iFEST), a new group has formed in Japan to focussed on addressing the integrations problems faced by traditional project managers: PROMIS. They are going to build on the OSLC Core specification, and work on a definition for integrations for traditional project management scenarios. The formal connections between PROMIS and OSLC are still TBD, but this is another great example of how the work being done in OSLC is affecting the industry.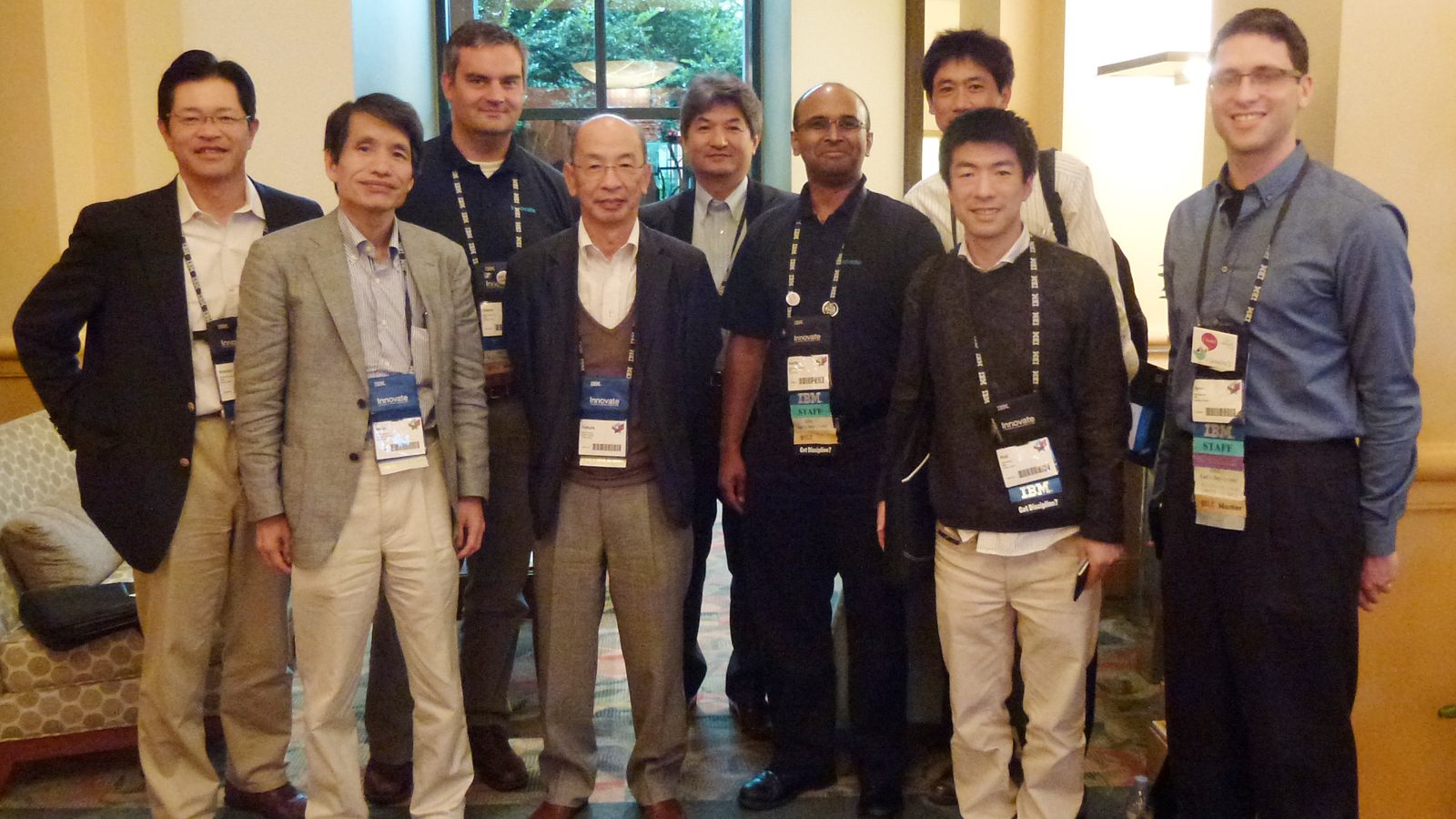 From left-to-right: Kohsei Watanabe (Director of Rational Japan), Mikio Aoyama (Professor at Nanzan University, PROMIS chairman), Steve Speicher, Kazuo Yabuta (Fujitsu, Executive Architect), Takeshi Watanabe (Director of Rational Japan Software Lab), Kartik Kanakasabesan, Masaki Wakao (Rational STSM), Kohji Ohsawa (Rational CTP), me.
Another theme that was repeated by a number of end users, I won't name names here, was that they have selected OSLC as their strategic integration technology. All these clients, in addition to using Lyo to OSLC-enable their homegrown tools, make a point of speaking about the need to OSLC-enable the tools they buy from other vendors whenever they speak to those vendors. A possible example of some of these end user efforts is the Mentor Graphics announcement of their Capital tools suite being Ready for Rational via an OSLC integration.
Tuesday night, though in competition with many other events, we ran the OSLC Hospitality Suite. The suite was officially sponsored by Kovair, Tasktop, and IBM Rational. There was also an "anonymous" sponsor from the OSLC Community.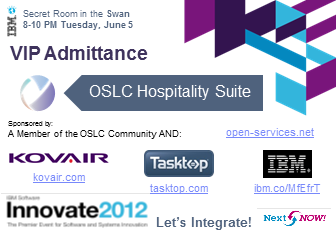 As a ticketed event, and one that provided food and drinks in a relaxed atmosphere, we were able to develop some very good pre-party buzz, which was only eclipsed by the event itself. With a special blue OSLC drink, many end users, implementers, and IBM executives (including Kristof Kloeckner, Harish Grama, and Martin Nally – who I've already mentioned in this blog, Dibbe Edwards, VP Rational Software Development, Wendy Toh, VP Rational Worldwide Client Support, Angel Diaz, VP IBM Software Standards, Charles Chu, Director, Product Management & Strategy, and those I missed, who hopefully don't hold grudges ... I can easily update the list), the OSLC Hospitality Suite was not just a "super success!", but a "HUGE success!!!". People are still commenting on how great it was, and how it was the "most lively party of the night".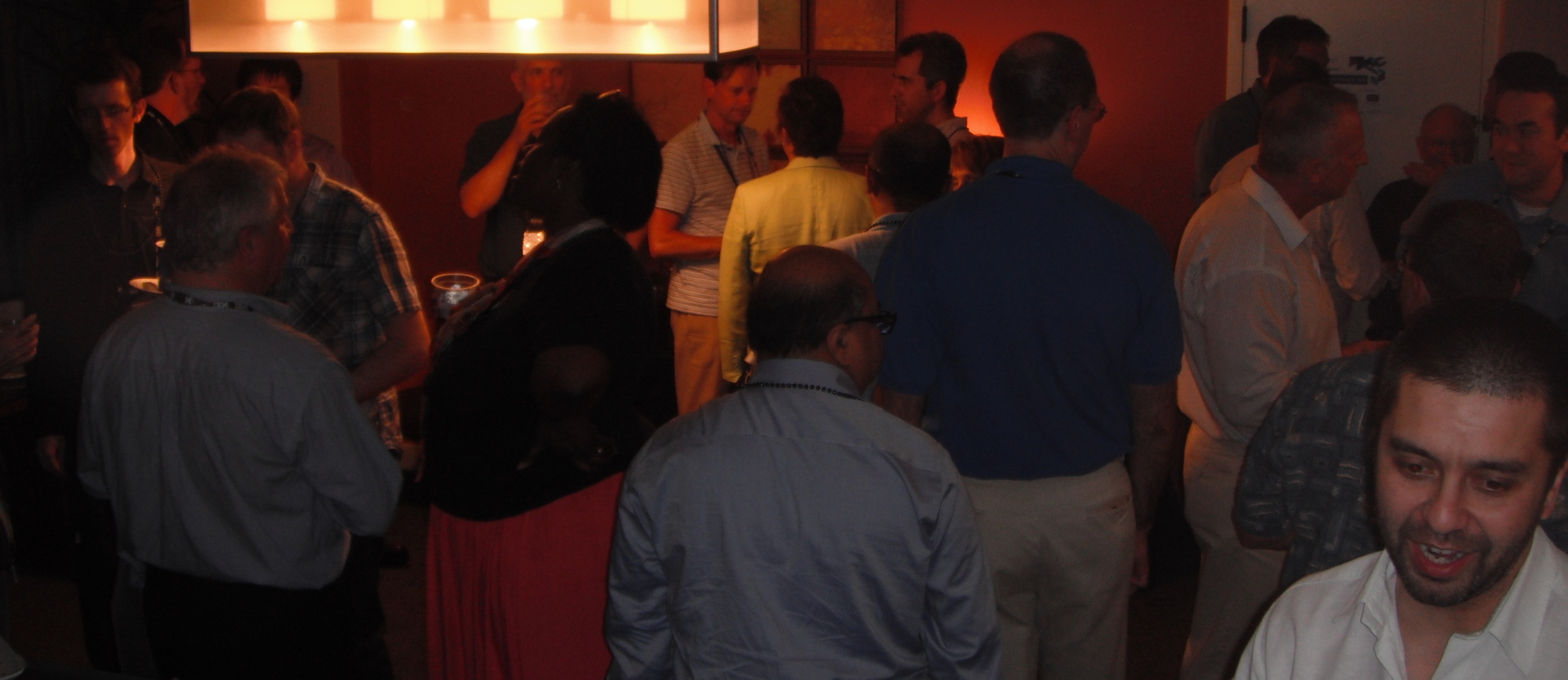 Not only was it a great party, it was an excellent opportunity for the OSLC community to form some community bonds, and for others to get connected with the community for the first time.
I cannot leave this section before extending a special thanks to Krista Meyer, Stephanie Trunzo, Kartik Kanakasabesan, Steve Speicher, and Mike Fiedler, for all their help in planning an executing this event. If our careers in the technology industry take an unexpected turn for the worst, lets kick-off second careers as event planners!
I suppose that the mention in the keynotes should be considered "official", however while things like the StC meeting, the Lyo chat, and the Hospitality Suite happened around the conference, they weren't official Innovate events. The success of these things, and the overall buzz around OSLC, is likely something we could have anticipated given all the official OSLC content in the conference. The mentions in the keynote on Monday helped push the OSLC buzz to a new level, but that level was possible because of the hard work already in place.
After its first mention in the keynote, attendees would have had to work hard to avoid hearing about OSLC again. There were over 3 dozen sessions mentioning OSLC at Innovate this year. Delivered not only by implementers, but by integrators and end users as well. The sessions were across many tracks, including the Lyo workshop and the Executive Summit. With all this wonderful content, the OSLC Community Webcast series will not be lacking for eager presenters anytime soon! (Make note of the upcoming webcast "Any Record, Any Where, Any Time" on June 26.)
More, the Integration Center, at the back of the Exhibit Hall, was a phenomenal demonstration of how OSLC-based integrations make possible integrations across a wide variety of tools: from IBM (not just Jazz-based tools, and not only from Rational), from IBM partners (and competitors), and from open source. All the pedestals showed real integrations, working on real data, happening live. Visitors could make a change at one station, walk to another and see it reflected there (and yes, there was an app for this thanks to Lee Reamsnyder). This innovative demonstration of the power of OSLC integrations was made possible not only by software from IBM (including Green Hat, Rational, and Tivoli), but also by software from: ARCAD, Inchron, iRise, Planview, Smartesting, and Tasktop.
The next challenge for OSLC is to build on the excitement and leaps forward that we witnessed at Innovate. We need to settle in to the new governance model; we need to keep driving value into Eclipse Lyo and deliver the 1.0 release; we need to inspire and enable more integrations from vendors and integrators; we need to have more end users engaged in the community, providing scenarios for specifications and championing OSLC when they speak to their other vendors; we need to continue to influence the integration discussion in the industry.
Given all of that, it is great that the W3C Linked Data Platform Working Group has its first meeting scheduled for June 18, that there is a wonderful webcast on June 26 that discusses the benefits of using OSLC for integration in a high-availability production environment, and that Steve Speicher has had a session "Leveraging W3C Linked Data for Loosely Coupled Application Integrations" accepted to the JavaOne 2012 conference in October.
We're doing our best to keep up the pace, and encourage you to contribute however you can to keep growing the value of OSLC to end users, integrators, vendors, and to yourself.