As was previously discussed in December and February, the OSLC Steering Committee has been driving a plan that would see OSLC specifications standardized at OASIS. On May 1 the OASIS Board voted unanimously to create an OSLC Member Section to own and execute on that vision. The website for the Member Section, while sparsely populated, does show the founding organizations, all TWENTY-TWO of them! Truly this broad cross-industry support from vendors, integrators, enterprise end-users, and academics is a powerful demonstration of the acceptance of OSLC's approach to integrations and commitment to OSLC's success.
To save you a click, here is a list of all the founding organizations of the OSLC Member Section at OASIS:
Accenture

Bank of America

Boeing

Creative Intellect

EADS

Eclipse Foundation

Ericsson

Fujitsu

IBM

JPMorgan Chase

Kovair Software

KTH Royal Institute of Technology

Mentor Graphics

National Instruments

Persistent

Red Hat

Siemens

Sodius

Software AG

Tasktop

Universidad Politécnica de Madrid

WSO2
I would like to take a moment, on behalf of the Steering Committee and everyone who has contributed to OSLC, to say "Thanks" to all these organizations for their support.
The creation of the OSLC Member Section at OASIS is a significant milestone in this history of OSLC that demonstrates the community's ongoing commitment to open standards and simplifies participation in future OSLC standards development. Within the next 90 days the OSLC Member Section at OASIS will conduct an election to fill a seventh seat on the Steering Committee. All members of the OSLC Member Section at OASIS are elgible to run and vote in the election. OASIS members may join the OSLC Member Section at any time.
Over the coming months existing OSLC specifications will transition to the OASIS standards track under the OSLC Member Section. The transition will be staggered, and until existing OSLC work groups transition to OASIS Technical Committees, they will continue to do their specification development at open-services.net. Participation in the OSLC community will always remain free of charge through the Forums and the User Groups.
While there may be changes to this vision as we get more experience and more input, the following image shows what we have in mind for OSLC once a the specifications are transitioned to OASIS Technical Committees: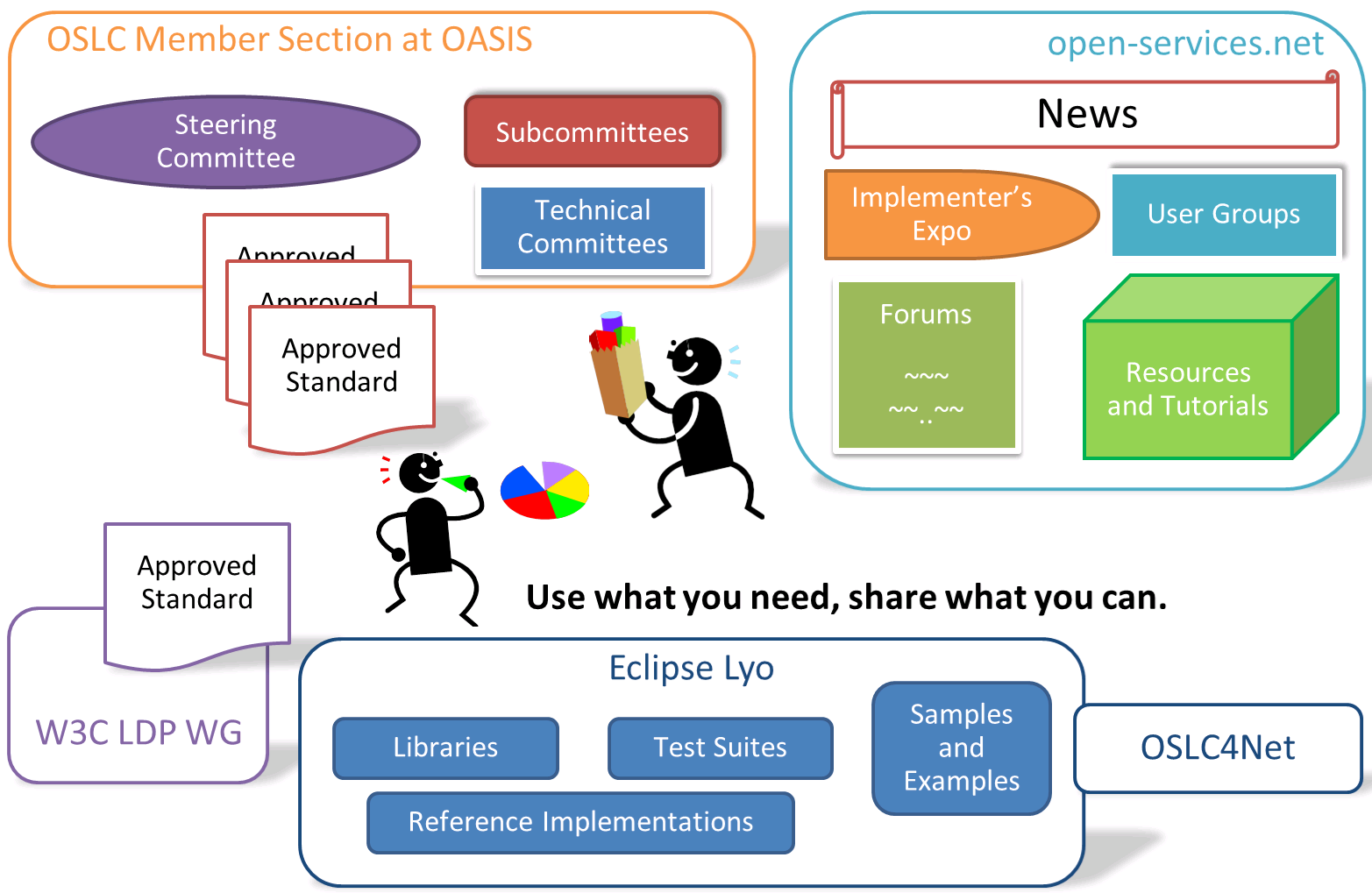 (Hey, if it's been a while since you last took a look, why not take a minute to check out the latest progress of the W3C Linked Data Platform WG, Eclipse Lyo, and OSLC4Net!?)
Hopefully you're as excited as I am, but maybe I've left some questions unanswered. Whatever the case, you can chime in on the forums.